Outstanding shot of the very sexy Bonnie Bernstein on ESPN's First Take. It's too bad she's usually stuck outside covered up on the NFL sidelines, we need to see more of her hotness. Bonus add with Dana Jacobson. This upskirt is classic. Shaved, g-string, liner from her top, hard to tell, what y'all think??
A treat from Bonnie,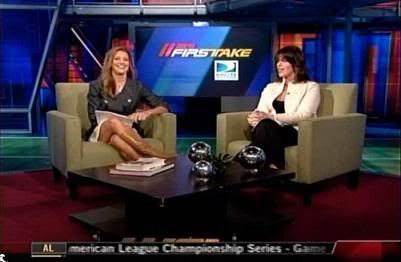 Update: a little clearer picture, still inconclusive IMO,
Screencaps courtesy of Cobra at the Wide World of Women forum.